Train Conductor, Polar Express
Every winter, the Grand Canyon Railway in Williams transforms into The Polar Express, creating a memorable holiday experience for Arizona families and visitors complete with lots of hot chocolate, cookies, smiles and even a special keepsake.
Critical to this experience are Polar Express train conductors such as Tom Ellington, who interact with guests on the train, punch their tickets and generally help provide a great memory. As a 25-year Air Force veteran, and 3-year conductor, Tom loves helping children and adults celebrate family, friends and freedom.
In this month's Grand Connection profile, Tom shares why people often make the Polar Express a (growing) annual tradition, where he might take his next Arizona road trip and a special experience that reminded him to embrace each human encounter as important and personal because "life is short and love is forever."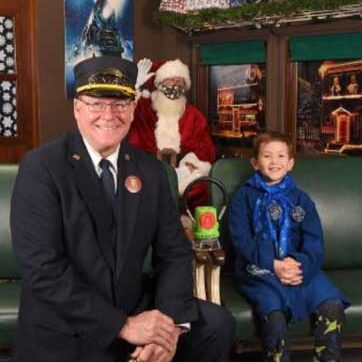 First Job/Past Jobs

Doing a paper route for The Arizona Republic. 6 year High School Teacher Air Force JROTC.
3 years experience in Railroad Hospitality Industry; 25-year military veteran of U.S. Air Force
What's the best thing about being a train conductor for The Polar Express?
I love being a part of the excitement and joy experienced by children and adults as they take in the Polar Express Experience. It is really something to behold, they come in their pajamas to take part in something that helps us celebrate what makes life worth living: family, friends and freedom. While we provide the beautiful environment with trees, lights, decorations, food and gifts, our guests bring with them the magic that makes the whole thing special.
Tickets during the holiday season tend to sell out pretty fast. Why is The Polar Express so popular with visitors?
Because people love the traditions of Christmas and the message of the story…that the spirit of Christmas is alive and well when you believe! The magic and joy are found when family and friends get together and celebrate life, liberty and love.
Not only have many guests made the Polar Express a tradition, they tell people about it and bring more friends and family every year. And they tell us it gets better each year. We do work hard to create the best atmosphere and train ride and we do our best to make it not only an attraction to entertain children, but it has become something that adults love too, because they find the child within, and they want to come back too.
How has the Grand Canyon Railway adapted the guest experience to ensure riders feel safe and comfortable during these times?
While we have taken many measures, it is my belief that the positive attitudes of our staff and guests are the secret. I can honestly say that I am amazed at how our Railroad family has come together to help our guests gain an experience that will become a memory that most will cherish forever, given federal guidleines for safety.
Our clientele are some of the best people I have ever met, the vast majority of them are amazing Americans with awesome attitudes, yes we wear, sell and provide face coverings, hand sanitizers, gloves, and social distancing when needed, but attitudes are what set the tone for an awesome experience.
You've been a part of families' holiday experiences for several years. What's your favorite memory from your time as a Polar Express conductor?
In my first year working on The Polar Express, I was talking to an elderly guest telling him how glad I was that he came and how awesome he looked in his pajamas. As he walked away, the woman that was with him told me this would be his last Christmas, for he has stage 4 cancer. Naturally, I was deeply touched, how we choose to spend our time can make a big difference.
Life goes by so fast, and in the hustle and bustle, we should remember that EVERYONE has their own story, everyone is experiencing their own troubles and tribulations, but when we slow down and show love to each other, life becomes much more enjoyable.
I had never worked in the hospitality industry before that year, but the lesson learned was one of the most important-embrace each human encounter as important and personal, for life is short, and love is forever.
Your job sounds like a lot of fun. What is one thing about being a conductor on The Polar Express that most people don't know?
Being a Polar Conductor is a lot of fun, I especially like the expression on our guests' faces as I punch their initials into their tickets, many think I must get tired of it, but I have never had an issue, even after a night of punching hundreds of tickets, I hope they end up in scrapbooks as personal reminders of our short time together.
Which Arizona tourism experience (that you haven't had yet) are you looking forward to doing?
A Route 66 experience from East to West with car and motorcycle museums and shows. I like road trips on my Harley motorcycle, and to be able to ride Route 66 through the entire state would be awesome!