The Grand Connection is AOT's new profile series designed to connect Arizona's tourism industry through the experiences and insights of those who drive it. We'll include leaders, but these profiles aren't limited to only those in the executive office. We're striving to bring you perspectives from all across our amazingly diverse industry. Everyone has something to share and an experience from which we all can learn.
THE GRAND CONNECTION: MILA BESICH, MAYOR, TOWN OF SUPERIOR & EXECUTIVE DIRECTOR COPPER CORRIDOR ECONOMIC DEVELOPMENT COALITION
If you could design an ideal leader for a small, rural Arizona community, she'd probably have deep roots there and be skilled in both driving sustainable economic development and preserving the place's beauty and history. As a fourth-generation Superior resident, school board member, town council member and now mayor, Mila Besich embodies these characteristics.
Whether it's promoting the Superior Visitors' Center (the only Arizona visitors' center housed in a caboose) or the Legends of Superior Trails (LOST) and everything in between, she prioritizes diversifying Superior's economy through promoting tourism and small business development.
This month, Mayor Mila (as she's known by many Superiorites) shares her proudest accomplishment so far, the benefits of launching a town rebrand during the pandemic and how important it is to encourage visitors to discover Arizona places off the beaten path.
During your time as Mayor of Superior, you have always placed a high value on promoting tourism. Why has that been a top priority for you?
Superior has a unique opportunity to diversify our economy through tourism and small business development. Natural-built assets such as the Boyce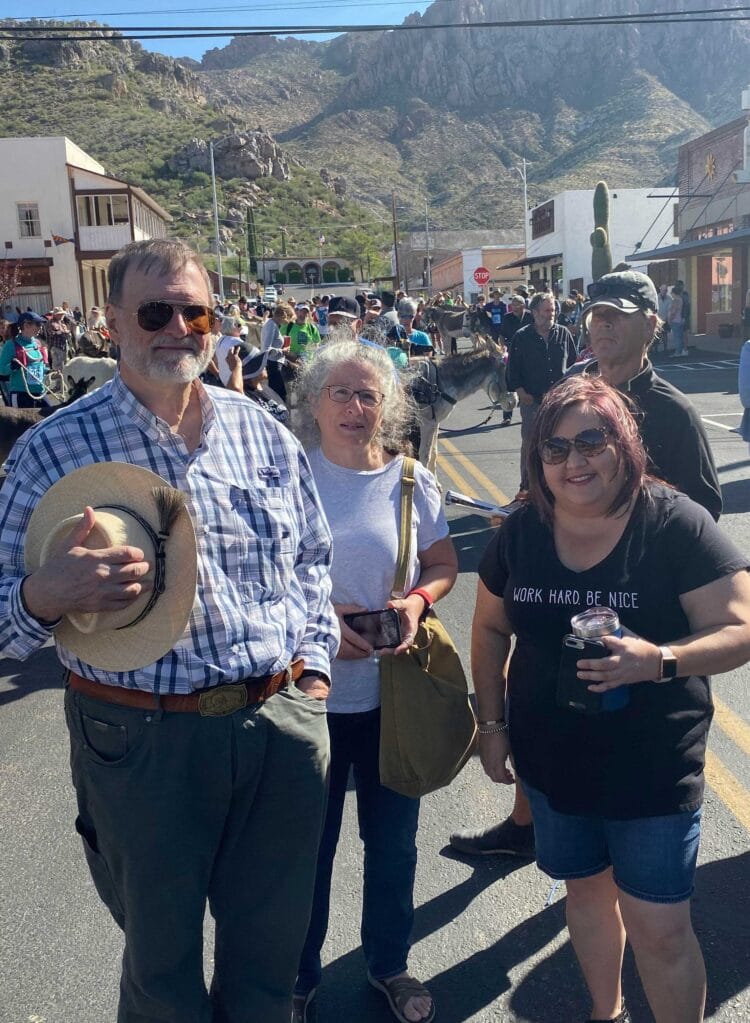 Thompson Arboretum and Arizona National Scenic Trail have contributed to our robust tourism activity, which helps us build our economy while also holding onto our roots of being a town with one of North America's largest copper mines.
Our connection to the mining industry also supports our tourism efforts and we have visited with travel promoters in the United Kingdom – the headquarters base of Rio Tinto – to promote Superior and the Copper Corridor to British travel enthusiasts.
What is your proudest accomplishment so far?
There are many accomplishments in which all Superiorites can take great pride. Most importantly, it has taken all of our community coming together to grow and rebuild Superior.
From a personal standpoint, the biggest personal accomplishment has been having the privilege to lead the effort to construct the Legends of Superior Trail, which was the first gateway community trail to be constructed off of the Arizona Trail into our downtown. Secondly, seeing our downtown come back to life with events, new businesses and park improvements has been especially gratifying and beneficial for all of our residents and businesses.
You recently completed a major rebrand for Superior. What challenges did you encounter and how did you conquer them?
Rebranding is often costly and it entails far more than developing a new logo. We were committed to making sure that every stakeholder had a voice in the brand, which requires an enormous amount of work and time. Without the partnership between AOT and Local First Arizona, rebranding may not have been possible for a community our size.
As we were excited to launch our brand the pandemic hit, we faced a dilemma: do we shelve it for a while or do we launch it? We decided it was a great time to launch our brand, adding in a few taglines such as "safety elevated" to promote Superior as a safe place to visit and physical distance. It also gave our residents the message that we wanted both residents and visitors to make safe choices in Superior.
Our brand is dynamic by supporting other important dimensions of Superior; for example, we are using our brand to promote our environmental initiatives: "Superior. Sustainability Elevated."
What's one aspect of your job that might surprise people?
Many people are surprised that our mayor and council positions serve as volunteers. Serving as mayor is a labor of love for me and what is both stimulating and surprising is the breadth of complex projects and global issues that Superior has to navigate while also ensuring the utmost in the day-to-day delivery of the services and quality of life that our residents need and deserve.
What lessons have you learned that could help others who are navigating through a crisis?
The most important lesson I have learned is how important it is to communicate through the good and bad. Every opportunity that exists to communicate about what is going on in your community must be utilized.
During the early days of the pandemic, we maintained daily calls with our business community to ensure they had the information they needed from state and federal officials. This communication and collaboration also helped me make decisions that were best for our community because we were able to maintain a dialogue, despite physical distancing.
As we dealt with the recent wildfires, that communication standard we built during the pandemic was critical to keeping our community calm and informed. Above all else, regardless of how drastic or dire the circumstance, it is paramount that public leaders remain calm and keenly focused on navigating their citizens and stakeholders through the crisis.
What do you see as Superior's greatest strength as a destination?
Our proximity to the Phoenix and Tucson metro areas is a huge asset but our greatest strength is our warm and welcoming hospitality, majestic and beautiful surroundings and of course, being the home of the Boyce Thompson Arboretum.
From your perspective, what opportunities should Arizona's tourism industry pursue during the next 5 years?
Arizona is a leader in economic growth, especially within the tourism and hospitality industry. We have many special places in our state that need to be promoted to ensure that tourism remains sustainable for all communities. Promoting some of our lesser-known areas will ensure that visitors continue to return for years to come – not only to their favorite places – but also to visit new and less discovered places in Arizona.
Which Arizona tourism experience (that you haven't had yet) are you looking forward to doing?
Currently, there are two "must-do" experiences that I am hoping to do soon. One is to visit the wild burros in Oatman and an extended visit to the Four Corners and spending time in the Monument Valley area.