The Grand Connection is AOT's new profile series designed to connect Arizona's tourism industry through the experiences and insights of those who drive it. We'll include leaders, but these profiles aren't limited to only those in the executive office. We're striving to bring you perspectives from all across our amazingly diverse industry. Everyone has something to share and an experience from which we all can learn.
GRAND CONNECTION: LAUREN BAILEY, CEO/CO-FOUNDER, UPWARD PROJECTS
Lauren Bailey didn't invent the idea of the "third place," but through her company Upward Projects, she's worked hard during the past 20 years to develop unique restaurant concepts in adapted historic buildings that also serve this important community function.
Third places are points for connection for members of a community, so named because they come after home (No. 1) and work (No. 2). Starting with the opening two decades ago of the original Postino Winecafé in a 1940's brick post office building in Arcadia, Lauren and her business partner remain driven to create eateries that serve locally sourced fresh food, amazing wines, revive historic buildings and bring people together, whether they're locals or visitors.
In this month's Grand Connection profile, Lauren shares why people connect so much with authentic restaurants, how her company is working through the challenges of the pandemic and how Upward Projects is committed to diversity, equity and inclusion (DEI).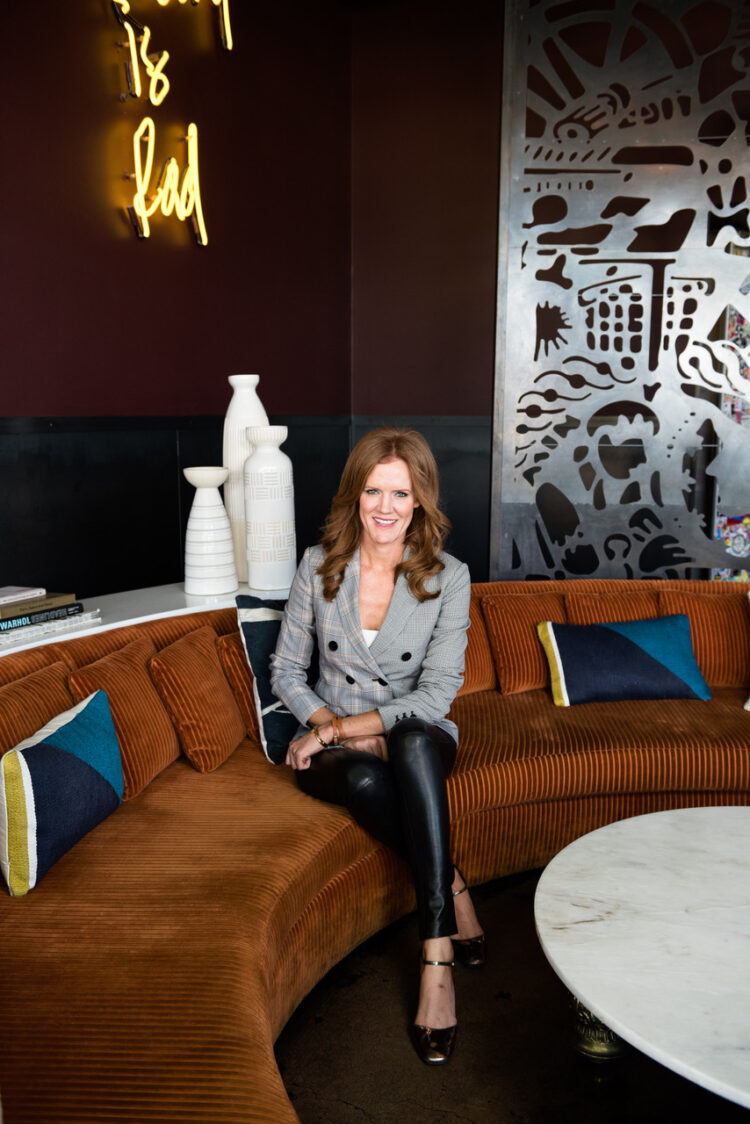 What attracted you to a career in restaurant concept development in Arizona?
I think my choice of majors when I was at college here at ASU says it all, graduating with dual degrees in Communications and Fine Arts. I'm a people person, so I've always been drawn to the hospitality industry, it encapsulates all of the things I grew up loving. I'm also a very visual person, and I love nothing more than seeking out the perfect found treasures or digging through boxes of donated sunglasses or matchbooks to create the ultimate eye-catching art wall at our next restaurant.
I cook a ton at home and love to experiment with new recipes also…some of which make it onto our menus. So even though my path has taken many unexcepted turns, I feel like this is the job I was born to do.
Upward Projects is known for creating restaurants such as Postino and Federal Pizza, which are closely connected to their communities. Why is this such a strong driving force for your group?
Starting with the first-ever Postino – housed inside a former post office – Upward Projects has been built a foundation on restoring historically relevant buildings that are integral to the neighborhoods they surround. It's why we picked the name.
Besides transforming old, locally relevant buildings into modern "third places" that enhance the surrounding area, we believe that pairing delicious food with local ingredients, bespoke beverage programs and warm, friendly culture, brings everyone together.
Why are local, community-connected restaurants so important to the visitor experience?
In an increasingly corporate cookie-cutter world, where many cities and states seem the same, there's an incredible value in authenticity. You can't fake the decades of patina that give historic buildings that unique charm and character and the uniqueness that the neighborhoods offer. People might not be able to put a finger on it, but you can sense when something is an authentic part of a neighborhood, part of the fabric of a community, and those are the places and experiences that stick with you.
All restaurants have weathered serious challenges, especially during the past year. How have you adapted during the pandemic and what might you say to reassure someone who's navigating through a crisis?
For better or for worse, every day in the restaurant industry is a series of crises, some minor and some major. So, we've always prided ourselves on being adaptable and flexible, while staying true to our founding ethos, which is "work hard and be nice to people."
Below are the Upward Projects core tenants of leadership, that we count on to guide us through any storm.
| | |
| --- | --- |
| | We are committed to empowering our team and provide a voice to everyone within the company. |
| | We are committed to the learning and development of all of our team. |
| | Everyone has a voice from every level of the company.  |
| Get Extraordinary Results  | Never settling and always strive to rethink and do what we do better than before. |
| | Innovation must be a primary focus. We are always looking to innovate |
| | Provide clear expectations, and reward the right behaviors.  |
| We celebrate the accomplishments and tenure of our teams.  | |
From your perspective, what opportunities should Arizona's restaurant industry pursue during the next 5 years?
While I can't speak to the entire restaurant industry, Upward Projects has been committed to the core tenants of diversity, equity and inclusion since it was founded in 2009.
We believe we are stronger together and have a long, proud history of supporting the LGBTQ+ community, including being one of the first to sign the Unity Pledge, an organized effort by Arizona businesses and individuals to advance workplace equality and equal treatment in housing and public accommodations for LGBTQ+ individuals and their allies.
Which Arizona tourism experience (that you haven't had yet) are you looking forward to doing?
I'd really like to get to Antelope Canyon and raft through the Grand Canyon this year!