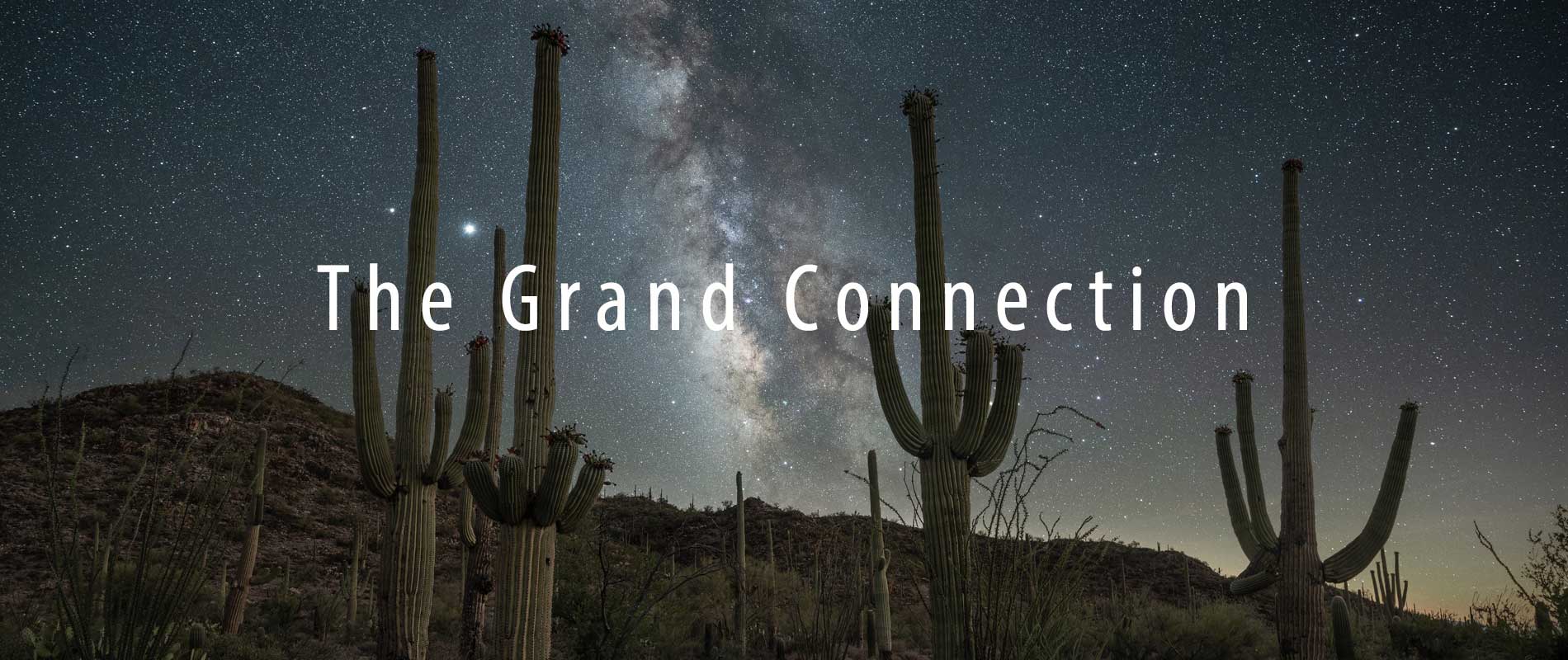 The Grand Connection is AOT's profile series designed to connect Arizona's tourism industry through the experiences and insights of those who drive it. We'll include leaders, but these profiles aren't limited to only those in the executive office. We're striving to bring you perspectives from all across our amazingly diverse industry. Everyone has something to share and an experience from which we all can learn.
THE GRAND CONNECTION: JOE BILL, PRESIDENT, INTERNATIONAL DARK SKY DISCOVERY CENTER
Joe Bill's life-long appreciation of the wonders of the nighttime universe began when he received his very first telescope in sixth grade. Those nights in his backyard in Wisconsin eventually morphed into attending adult astronomy camps, which really accelerated his desire to preserve the beautiful skies, particularly those above his home of Fountain Hills.
In retirement, he helped form the Fountain Hills Dark Sky Association, which was the leading force in helping the town earn its prestigious designation as the world's 17th International Dark Sky Community. But don't be swayed by the standard definition of the term "retirement." Joe stays mighty busy these days as president of the International Dark Sky Discovery Center (IDSDC). He's working tirelessly to fund and build IDSDC, which won't be merely a "Fountain Hills attraction," but an international attraction in Fountain Hills that will benefit the entire state of Arizona.
In this month's Grand Connection profile, in honor of International Dark Sky Week, Joe shares the importance of maintaining dark skies beyond stargazing, the exciting experiences awaiting visitors to the IDSDC and why astrotourism should be an ever-increasing part of Arizona's visitor offerings.
What are the missions of the Fountain Hills Dark Sky Association and the International Dark Sky Discovery Center?
The Fountain Hills Dark Sky Association's mission is to inspire residents to take pride in the town's rare distinction as an International Dark Sky Community and to protect and preserve our night sky for the benefit of all living things.
The mission of the International Dark Sky Discovery Center is to create an international centerpiece that will inspire future scientists and people of all ages to understand how important dark skies are for the well-being of humans, plants and animals and for opening the window to the observable universe.
What drew you to this captivating field?
Growing up in a small Wisconsin town with incredibly dark skies influenced my fascination with the universe starting in sixth grade. Not that long ago, LED lights were first introduced and initially were only available as bright white, not soft white or amber. These bright white lights began to affect the relatively dark skies of Fountain Hills. This impact led me, along with others who were equally committed, to begin our quest of dark sky preservation in 2015.
You're working on raising funding to build the first-of-its-kind International Dark Sky Discovery Center (IDSDC) in Fountain Hills. How's it going and how can people help?
The Discovery Center is truly unique with its five major components: a Dark Sky Observatory with the largest telescope in the Greater Phoenix area, a Hyperspace Planetarium, an Inspiration Theater, an interactive Immersion Zone, and an Einstein Exploration Station for teaching the physics of light.
The Center is a $25 million project and we have already raised $8.5 million in donations and pledges. We are happy to talk to any potential donors who might have questions or an interest in naming rights for a major component or the entire facility.
Based largely on your group's efforts, Fountain Hills earned its spot as the world's 17th International Dark Sky Community in 2018. Why is maintaining dark sky places important?
The first thought people have regarding this question is that maintaining dark skies is important for seeing more stars. Well, yes, that's true, but it's not the most important reason.
The American Medical Association recognizes how improper lighting adversely impacts human health. More and more research has determined that excessive light at night has serious negative effects on many nocturnal animals, nocturnal pollinators and some entire ecosystems.
Fountain Hills was just included in an exhibit at The Smithsonian National Museum of Natural History in Washington, D.C. What an honor!
The Smithsonian has just opened its Lights Out exhibit to teach visitors about the importance of dark skies. Out of the 200+ designated International Dark Sky Places, they chose just 13 from around the world to include, and one is Fountain Hills.
To summarize why maintaining dark skies is important, here is what my wife and I say: "Under sunlight you see the world, but under dark skies you see the universe."
In addition to serving as an educational and research facility, the IDSDC will also serve as a visitor attraction. What can visitors expect?
Put concisely and simply, a fun, engaging educational experience like no other in the world.
Which opportunities should Arizona's tourism industry pursue during the next 5 years?
Astrotourism is growing globally. Arizona is one of the very few states in the U.S. that still has very good dark sky areas. Articles about this movement now appear regularly in all major media. Given our state's dark skies coupled with its natural beauty, Arizona is in a perfect position to capitalize on promoting dark sky experiences.
Which Arizona tourism experience would you like to do this year?
With my wife and I being Arizona residents for 35 years, we have been to Arizona's national parks, most state parks, many county parks, hiked much of the Arizona Trail, climbed many mountains, and visited many Arizona attractions, including numerous Indian ruins. What's next? We're open to suggestions but will also use the AZ Office of Tourism website VisitArizona.com to find other fascinating destinations to explore.