Mexico Initiatives Director, Visit Tucson
One of the fundamental roles of tourism is to bring people, places and experiences together. As DMOs, we get to find unique ways to achieve that goal. One needs to look no further than the thriving cross-border relationship between Arizona and Mexico to see how this approach to attracting visitors can be used successfully.
Through a tourism career spanning over 13 years, Visit Tucson's Marisol Vindiola has mastered the art of connecting people in Southern Arizona and Sonora through shared experiences and culture.
In this month's Grand Connection, Marisol shares why being bilingual and bicultural has served her so well, how regional cultural experiences bridge borders, and the secret to finding new opportunities in challenges.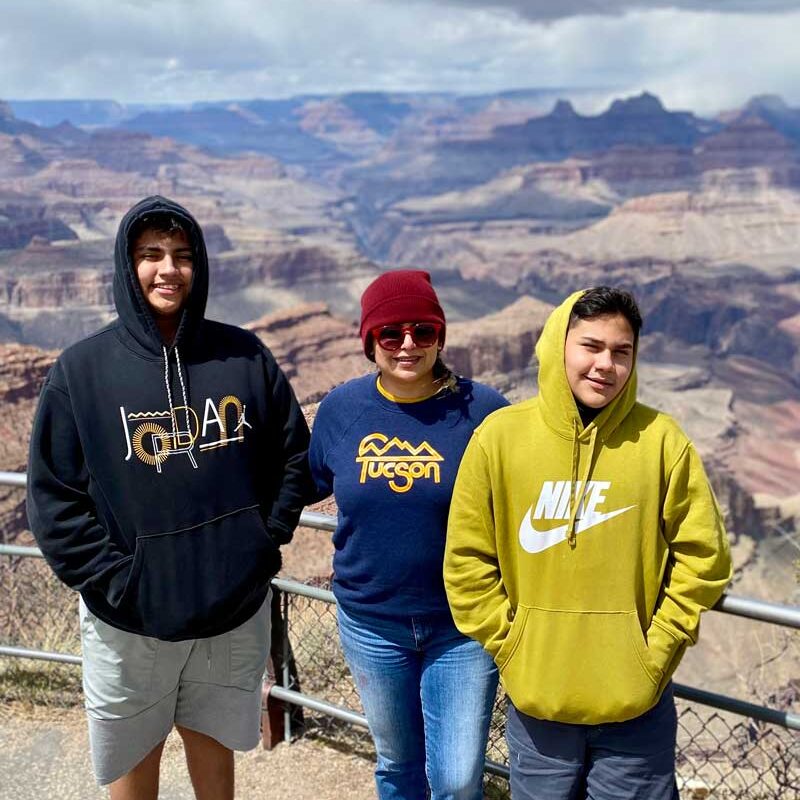 Name

Marisol Vindiola, Director of Mexico Initiatives, Visit Tucson
First Job/Past Jobs

DESEM Sonora (DESARROLLO EMPRESARIAL MEXICANO) - Junior Achievement International - Chapter Sonora, Mexico. Media and Public Relations at the Consulate of Mexico in Tucson.
You've worked to increase visitation to Arizona from Mexico for nearly 15 years. What do you consider to be your most impactful accomplishments during that time?
Starting my career in the tourism industry from the bottom and moving all the way to director of Mexico initiatives has given me the opportunity to embrace my bilingualism and biculturalism, as well as to learn about our cross-border market from the experts in the Arizona-Mexico travel industry.
I've also helped build international media outreach and cross-cultural connections with businesses, media, influencers, community and government leaders from both sides of the border. Efforts that I'm particularly proud of include the Las Hermanas Beer Binational Female Project (which created massive outreach in Mexico and the U.S.) and promoting our culinary ambassadors such as Chef Maria Mazon, local baker Don Guerra, and Stephen Paul from Whiskey del Bac.
All of this makes me proud of what Tucson and Arizona have to offer, not only to our friends from Mexico but also from around the world.
Why is it so important to highlight the regional cultural experiences found between Arizona and Mexico in promoting tourism?
Celebrating our regional history, heritage, and culture is vital to ensuring a strong and loyal connection to our destination with visitors from Mexico. Tucsonans work hard to share our local culture, gastronomy, events and festivals, attractions, makers and people with our visitors from Mexico.
We're proud to embrace our biculturalism and community that can be tasted, experienced, and felt around the city. In the end, we share and live in the same majestic Sonoran Desert.
Which opportunities should Arizona's tourism industry pursue during the next 5 years?
I think there will always be many opportunities out there in different areas. But I'd like to advocate working on a welcoming message that promotes diversity and inclusion by creating and implementing a comprehensive destination marketing plan statewide to attract a more diverse market and of course, Spanish-speaking visitors, not only from Mexico but from the huge and growing Hispanic market in the U.S., to experience our amazing state of Arizona and its multicultural roots.
You've spearheaded many successful cross-border festivals, collaborations, and partnerships which have strengthened our bond with our neighbors in Mexico. Ready to share any upcoming plans for this year?
A great way to expand and strengthen Tucson's culinary, makers, shopping, attractions, wine and craft beer messages is by partnering with the Arizona Office of Tourism and local businesses to participate in events and festivals in Sonora and other areas of Mexico. I would like to share that we are planning to participate at the annual Wine Fest 2022 in San Carlos, Mexico on March 4, 2022.
The tourism industry has weathered substantial challenges during your career. What might you say to reassure someone who's navigating through a crisis?
Indeed, we're living in a stressful time due to the challenges the COVID-19 crisis brings to our industry, but we're a resilient industry, and we can all practice being resilient. Challenges also bring new opportunities, and, perhaps, we can reinvent, be more creative, and think out of the box on how we can attract more diverse visitors to our cities and region and reexamine what our amazing Grand Canyon State has to offer.
Today, Jan. 25, is National Plan for Vacation Day. Do you have any ideas yet for a vacation you might take in 2022?
The adventure that my two sons and I have had on our bucket list for a while is The Wave Arizona. I can't wait to visit this natural gem in Northern Arizona. We look forward to experiencing this attraction and of course, sharing and inviting our family and friends from Mexico and southern Arizona to dare to visit Northern Arizona and vice-versa our friends from Central and Northern to visit and explore our national parks in Southern Arizona, such as Saguaro National Park, Chiricahuas, Tumacacori and many other parks and attractions.