Deputy Director of Economic Development & Tourism, City of Kingman
Sharing beautiful, "take-me-there" pictures and carefully crafted itineraries are time-tested methods of promoting destinations as must-visit locales to travelers. But perhaps one of the most powerful techniques we have to make an impression on visitors is sharing the authentic stories that define the people and places throughout our state.
It was this very experience – learning the history of Kingman and its connection to Americans' move westward – that captivated Josh Noble, deputy director of economic development & tourism for the City of Kingman, enough to want to share that story with visitors.
In the kickoff Grand Connection for 2023, Josh shares how he's working to reposition Kingman in the minds of travelers, the big opportunities he sees for the city in celebrating the Route 66 Centennial in 2026 and where his next Arizona trip might take him.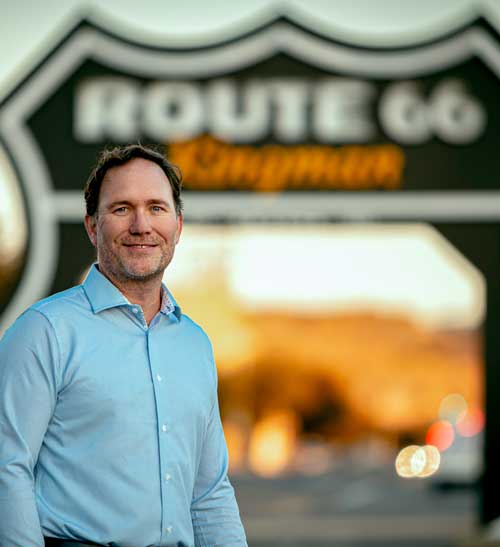 What attracted you to a career in Arizona's tourism industry?
It was almost accidental how I fell into this industry, but I truly became captivated and invested in tourism due to its historical ties. I enjoy sharing the story of how Arizona, and Kingman specifically, mirrors America's move west and the nation's transition into an economic powerhouse. It's built into the architecture of our town, and people can still experience it today.
What is your proudest accomplishment so far?
A few years ago, it dawned on me that Kingman had an enormous opportunity for a permanent landmark Route 66 Drive Thru Shield experience, which was finally realized in July 2021. Ever since, there have been thousands of tourists, car clubs, international motorcycle tours, and even tour bus groups visiting to get their selfies under the Shield.
What challenges have you faced and how have you responded?
The most pronounced challenge is changing the perception that Kingman is a pit stop on the way to somewhere else. Kingman is situated along I-40 and future I-11 with thousands of cars driving through daily, missing out on a great experience. To tackle this, we've focused on the development of infrastructure and attractions that pull visitors deeper into town, such as the Tesla Super Charger site we worked to have built off of the beaten path and in downtown.
What do you see as Kingman's greatest strength as a destination?
Kingman's greatest strength is its location at the heart of the longest remaining stretch of Historic Route 66, a destination sought after from all over the globe. Route 66 is a natural path through scenic Northern Arizona to the Grand Canyon. It provides one experience to the west of town and something totally different to the east with quirky points of interest and roadside attractions.
What's one aspect of your job that might surprise people?
People find it surprising to learn just how many different tasks and projects this kind of work can entail. It can involve exciting projects like assisting in film productions or coordinating events, but also mundane tasks such as compiling safety data sheets and building operational budgets.
From your perspective, what opportunities should Arizona's tourism industry pursue during the next 5 years?
I believe there are two great opportunities. The Route 66 Centennial in 2026 is one for sure! I enjoyed working with the Historic Route 66 Association of Arizona and the Arizona Office of Tourism on the Rock The Route 66 Challenge Passport, released in 2022. As popular as it's been, it's demonstrated how much interest there is and it's just a small taste of the possibilities as we look to the hundred-year mark for Route 66.
The second opportunity is a related topic – the emergence of electric vehicles. Especially for fly-drive destinations like Kingman, and so many rural communities in Arizona.
Which Arizona tourism experience (that you haven't had yet) are you looking forward to doing?
As vintage camper enthusiasts, my wife and I would love to spend a few days staying at the Shady Dell in Bisbee and exploring wineries in Cochise County.