AZ Office of Tourism Launches Virtual Arizona Wine Trail Passport
PHOENIX, AZ. (August 5, 2021) — Experiencing Arizona's 120+ wineries and tasting rooms just got a lot easier thanks to the new virtual Arizona Wine Trail Passport, which was just launched by the Arizona Office of Tourism (AOT) and Bandwango.
The free, mobile phone-exclusive passport offers exclusive offers and discounts at wineries and tasting rooms across Arizona. After a quick sign-up at ArizonaWines.com, the passport is sent via text, immediately delivering both the functionality of a statewide wine region map and the excitement of discovering new destinations.
"From the soil and monsoon rains that grow Arizona grapes to the local vintners who craft award-winning Arizona wines, experiencing our wine regions connects travelers to the places they're visiting in a fun, unique way," said Becky Blaine, deputy director of the Arizona Office of Tourism. "Our new Arizona Wine Trail Passport is a perfect way to plan your trip."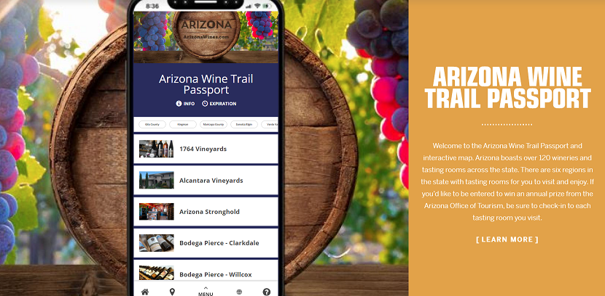 The passport was designed with ease-of-use in mind. In addition to identifying numerous places to enjoy Arizona wine, visitors simply click "check-in" on their phone when visiting their favorite tasting room and the passport does the rest relying on geo-locations of the individual tasting rooms to confirm the visit.
To encourage road trips throughout the state, the passport also offers the opportunity to win an Arizona wine themed gift tote that includes: an Arizona t-shirt, logo wine stopper, Arizona logo wine glasses (set of 4), and seasonal local products from Arizona producers. To be eligible, all visitors have to do is visit at least three of the state's six wine regions within a year.
"Between wine-tasting, enjoying locally sourced food or even staying the night at a vineyard, Arizona wine growers and producers offer a great collection of experiences," added Blaine.
###
Media Contact: Josh Coddington, (480) 438-4700, [email protected]
About the Arizona Office of Tourism: The Arizona Office of Tourism works to strengthen and grow Arizona's economy through travel and tourism promotion, positioning Arizona as the leading tourism destination for domestic and international travelers. Prior to the COVID-19 pandemic, tourism employed almost 200,000 Arizonans and contributed over $3.5 billion in tax revenue to our federal, state and local economies.
About Bandwango: Bandwango is a travel technology platform that empowers DMOs, CVBs and other event or destination promoters to offer dynamically curated, digitally delivered access to places and experiences for both visitors and locals to enjoy.