Head Brewer &
Director of Operations
For Ayla Kapahi, brewing beer is all about mastering the intuition and creative flow of the process, while chocking her brews full of local ingredients and connecting the communities around her.
As head brewer and director of production at Tucson's Borderlands Brewing Company, Ayla gets to combine these skills and passions while producing award-winning beers influenced by the cultures of the Southwest. Additionally, as a community leader, she also focuses on promoting tourism as a way to preserve the traditions, cultures and communities that make Arizona unique.
In this month's Grand Connection, Ayla shares how tourism supports small businesses, how she uses brewing to connect cross-border cultures and how Arizona's rise as a craft beer destination can be harnessed for new tourism experiences.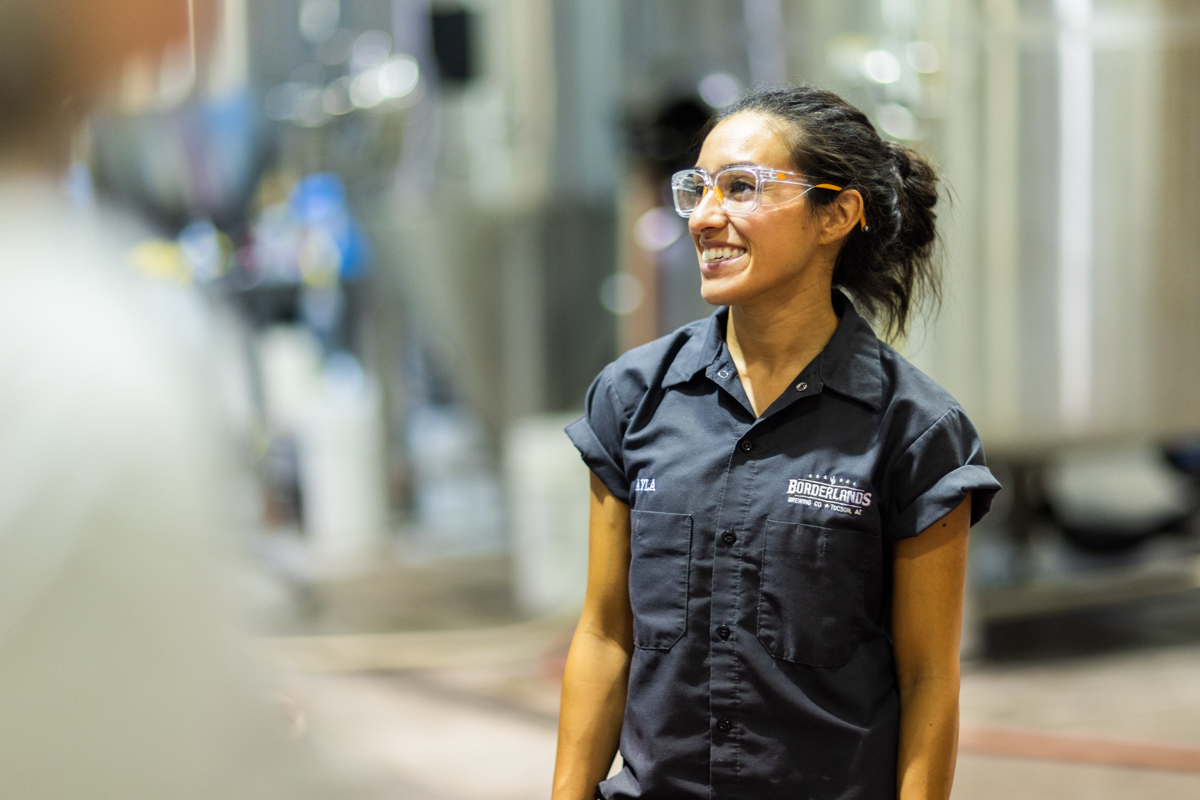 Name

Ayla Kapahi,
Head Brewer &
Dir. of Operations
Past Jobs

Public Brewhouse,
Handmaker Assisted Living, University of Arizona,
personal chef and manager
Your job title is Head Brewer & Director of Production at Borderlands Brewing Company in Tucson. However, you do a lot more beyond brewing beer. Can you share a bit more about that role and how else you impact the Tucson community?
We co-founded the Las Hermanas project, which connects women brewers on both sides of the U.S.-Mexico border. We host women brewers from Mexico at our facility to brew a beer and attend a free, brewing educational conference. We then travel to the host brewery in Mexico to brew the same beer. After nearly a decade of industry experience, it's important to me to give back to a community that has significantly enriched my life.
You're a frequent collaborator with the tourism industry, helping us share the great culture of Southern Arizona through familiarization (FAM) trips. Why is supporting Arizona's tourism industry a priority for you?
Supporting Arizona tourism means supporting small businesses. It directly impacts our local economies and cultures. We are proud to share our unique Sonoran, Native and Southwestern offerings through food and drink, experiences, hospitality and culture. 
No one wants to travel to a place that is uninteresting or uninspiring. Tourism allows us to sustain and protect the cultures and communities that make our state unique. It also allows us to focus on underserved communities.
What is something that might surprise people about the process of brewing craft beer?
Brewing beer involves a lot of cleaning! Sometimes 70 percent of our beer production days involve cleaning and sanitizing stainless steel fermentation vessels. Beer is very vulnerable and subject to contamination at each stage of the 2-week process, especially before alcohol is created. For this reason, cleaning takes up a lot of our time.
Another fun fact – women were the original brewers! Women were primarily responsible for beer brewing around the world during ancient times.
You spoke about your Las Hermanas brewing collaboration project with Latina brewers from Mexico during our Governor's Conference on Tourism (GCOT) this year. Can you share a bit more about the inspiration for this project and what lessons you've taken from it?
It was inspired by the growing impact of women and Latinas in the craft beer industry as well as the major challenges they face. I aim to reverse the stereotypes of Mexican craft beer. Many assume the Mexican craft beer industry has a lot to "learn" from American brewers, but the opposite is true. Executing binational projects requires substantial coordination and networking. It's a true collaborative effort. Each year I'm reminded of how much I stand to learn from others.
What collaborative efforts could Arizona's tourism industry pursue during the next 5 years?
Arizona is becoming an increasingly popular craft beer destination, especially for culinary tourists. It would be great to see more tourism support for individual craft breweries (e.g., craft beer tours) and larger craft beer events like the Strong Beer Festival and Arizona Beer Week.
Which Arizona tourism experience would you like to do this year?
I would like to hike and camp at Havasu Falls. This has been on my bucket list for a long time, but I haven't had luck securing a permit reservation yet. My partner and I have enjoyed many Arizona tourism experiences and some of our favorites include Bisbee's Copper Queen Mine Tour, Tucson's Arizona-Sonora Desert Museum and camping at Cochise Stronghold.