Department Manager 1, Navajo Nation, Department of Tourism
Overseeing tourism marketing and promotion for an area the size of West Virginia containing more than 100 communities is a large, multi-pronged job. Navajo Nation Tourism Department Manager Arval T. McCabe, who has served in this role for a decade, says the keys to success are sustaining strong tourism industry partnerships, connecting directly with visitors and maintaining a happy team.
In this month's Grand Connection profile, Arval shares the approaches he employs to ensure visitors have an unforgettable experience while meeting the Navajo people and exploring the Nation's tribal parks & historical sites, national monuments and Lake Powell shoreline.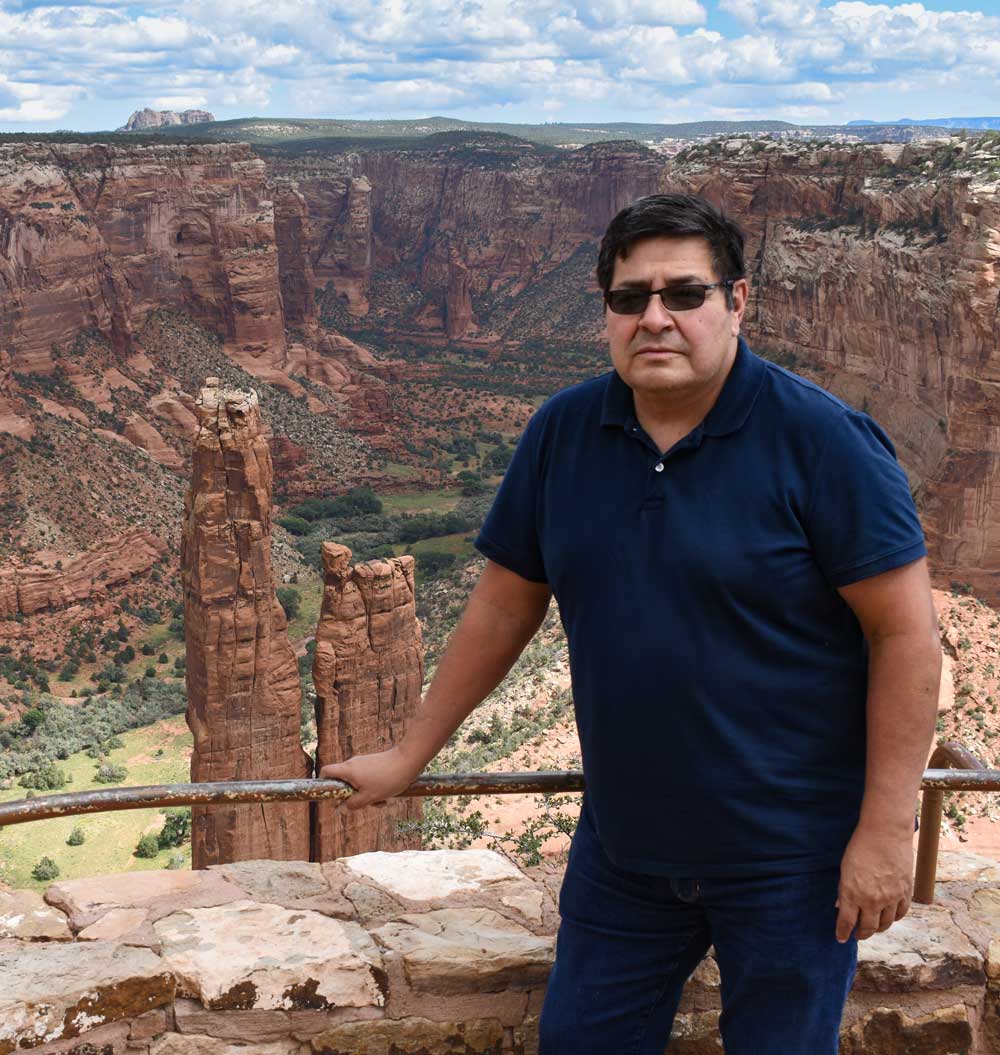 Can you briefly describe your job?
I oversee marketing for the Navajo Nation Tourism Department, which covers 27,000 square miles and 110 communities within Navajo. I work closely with Tribal, county and multiple state governments to promote destinations that would entice visitors to come and explore the vast land base on the Navajo Nation. I administer marketing efforts through collaboration with partners to improve visitation to Navajo Nation, which brings revenue and jobs to local communities.
What's your favorite part of your job?
I enjoy traveling to the many destinations and promotional shows that we attend. This gives me the opportunity to find out what visitors are looking for and what they come to experience on Navajo. This interaction gives potential visitors the opportunity to talk directly to staff who know what is needed and where to find it so visitors are prepared when they plan their visit.
What's one aspect of your job that might surprise people?
I am a team player! I never ask a team member to do something that I would not do myself. I work closely with my team and make sure they are happy in their job.
As communities and the travel industry operate through the challenges of recent years, how are you working to build tourism back on tribal lands?
My office works closely with the state to promote the Navajo Nation as being closer than it looks. By this I mean that we are a day trip away depending on how far you are from us and can assist visitors who are staying longer with things to do and see.
I want visitors to know that we are open for business with safety protocols in place to protect both community members and visitors. This and lots of other great visitor info is available at discovernavajo.com.
What do you consider to be the most impactful accomplishments of your tourism industry career so far?
Working closely with tribal, state and local entities to foster a culture of collaboration and to create a working relationship to benefit all.
Which opportunities should Arizona's tourism industry pursue during the next 5 years?
Recover, rebuild and job creation should be the focus of the next five years. This would get the economy back to track and generate revenue to assist the tourism industry to leap ahead since it is the driving force behind any great economy.
What do you see as our industry's greatest strength?
Partnerships. This is critical and beneficial for Tribal, local and state governments to assist each other with joint marketing efforts to create a sustainable economy and to create new businesses as the driving force in bringing in new revenue.
Which Arizona tourism experience would you like to do this year?
I think I would like to try rafting next year since it is something that I have on my bucket list. I know that when I talk with folks about this many have had the chance to experience the adventure and have very positive reviews. I think I need to do this since I enjoy being in the water!