Arizona Office Of Tourism Designates 2021 As Arizona's
'Year Of The Road Trip'
Kicks off on Jan. 26 - National Plan for Vacation Day
PHOENIX (Jan. 26, 2021) — Many Arizonans are planning their next trip right now. In honor of National Plan for Vacation Day today, Jan. 26, the Arizona Office of Tourism is designating 2021 as Arizona's Year of the Road Trip.
Planning a trip is actually good for you. Nearly every respondent (97%) to a survey from Destination Analysts said having a trip planned makes them happier overall. Plus, 71% of respondents reported feeling greater levels of energy knowing they had a trip planned in the next six months.
"Having a trip to plan and look forward to provides so many positive benefits," said Debbie Johnson, Director of the Arizona Office of Tourism. "That's why we launched Year of the Road Trip, to provide options, with safety and responsibility in mind, to those who are ready to plan their next trip."
Year of the Road Trip itineraries and the latest COVID-19 guidance on safe travel can be found at AZRoadTrips.com. Arizona is made for road trips with its beautiful scenery and wide-open spaces, making it easy to socially-distance along the way. New Arizona road trip ideas will be updated seasonally throughout 2021, so travelers planning road trips are encouraged to check back regularly.
To kick off the Year of the Road Trip, AZRoadTrips.com features a special itinerary right now focusing on Arizona bucket list destinations. Country music artist Mitchell Tenpenny's video for the song "Bucket List," which was filmed entirely in Arizona and highlights some of the state's most spectacular locations, is the inspiration for this itinerary.
"I'm really proud we were able to assist Mitchell in filming his bucket list experiences in our beautiful state," Johnson added. "These destinations are great to plan to visit any time of year and a perfect kick-off for Arizona's Year of the Road Trip."
In addition to the bucket list destinations, AZRoadTrips.com features ideas for several road trips, with highlighted itineraries for visiting the amazing canyons of Northern Arizona, wine regions of Central and Southern Arizona and a "Take It Outside" itinerary offering options for several drives across the state. AOT will continue to share new road trip itineraries at AZRoadTrips.com throughout this year.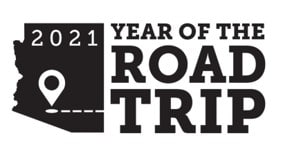 ###
Media Contact: Josh Coddington, (480) 438-4700, [email protected]
About the Arizona Office of Tourism: The Arizona Office of Tourism works to strengthen and grow Arizona's economy through travel and tourism promotion, positioning Arizona as the leading tourism destination for domestic and international travelers. Prior to the COVID-19 pandemic, tourism employed almost 200,000 Arizonans and contributed over $3.5 billion in tax revenue to our federal, state and local economies.