AOT, OEO Launch Employment Effort for Hospitality Industry
PHOENIX, AZ. (APRIL 1, 2020) –– The Arizona Office of Tourism (AOT) in partnership with the Arizona Commerce Authority Office of Economic Opportunity (OEO) recently launched a new resource aimed at connecting Arizona's displaced hospitality workforce with industries that are urgently hiring during the COVID-19 crisis.
Hospitality is a key Arizona industry. In 2018, tourism contributed over $1 billion in tax revenue to the state's general fund and accounted for more than 192,000 jobs across the state. This highly skilled workforce is being particularly hard hit by travel reductions, hotel and restaurant closures, with Tourism Economics projecting that at least 40% of Arizona's hospitality workforce will be laid-off or furloughed in the coming weeks.
The Arizona Hospitality Workforce Connection resource is designed with ease-of-use in mind, allowing job seekers to locate their hospitality job title and be matched with a similar opportunity. Employers can also have their job opportunities posted at no charge and opportunities are updated on an ongoing basis.
"While the COVID-19 crisis dominates nearly every aspect of our personal and professional lives, we're proud to be working collaboratively to support the needs critical to Arizona's tourism industry," said Becky Blaine, deputy director of the Arizona Office of Tourism. "Chief among those needs right now is to enable our hospitality workforce to stay employed in our state."
Hospitality industry workers' skills translate easily to jobs in other industries, such as:
Hotel culinary staff have experience as butchers, produce managers and bakers.
Housekeeping staff can clean grocery stores and sanitize hospitals
General laborers can unload delivery trucks and help restock store shelves.
The hospitality workforce connection also contains additional job opportunities and resources such as training, resume assistance and links to the Arizona Job Connection and to filing for unemployment insurance.
"AOT is here as a steadfast partner," Blaine added. "We're listening and responding to the concerns of the tourism industry across our state."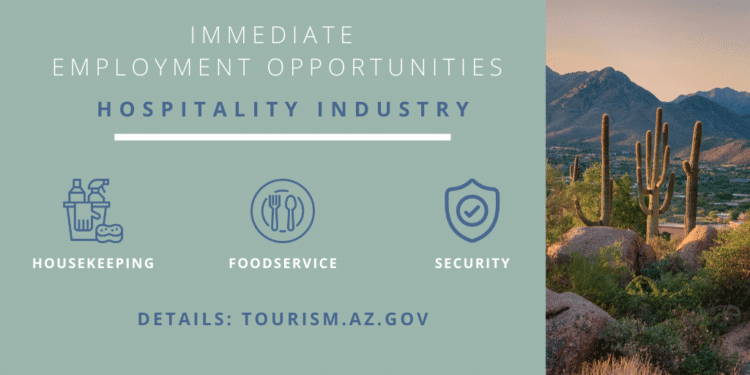 ###
Media Contact:
Josh Coddington
(480) 438-4700
[email protected]
About the Arizona Office of Tourism
The Arizona Office of Tourism works to strengthen and grow Arizona's economy through travel and tourism promotion, positioning Arizona the leading tourism destination for domestic and international travelers. Tourism is a key industry that provides positive economic impacts to every community, city and county across the state.