AOT Launches 'Rediscover Arizona' Tourism Recovery Campaign
PHOENIX, AZ. (May 26, 2020) — The Arizona Office of Tourism has officially launched its statewide tourism recovery marketing campaign, "Rediscover Arizona." The campaign tells the story of the many ways Arizona's beauty and wonder are perfectly suited to help people reconnect — in their own way.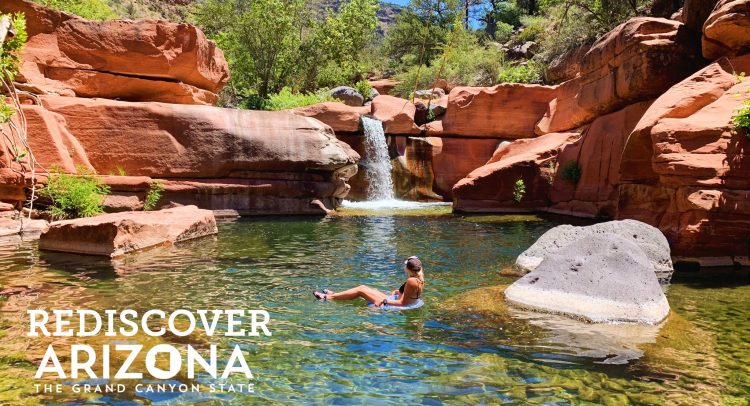 Phase 1 of the campaign is aimed exclusively at Arizonans, reminding them of all the great things waiting to be (re)discovered right in their own backyards. This portion of the campaign will run at least through the 4th of July.
Rediscover Arizona is driven by amazing Arizona imagery, emblazoned with slogans such as "Rediscover Stargazing," "Rediscover Wide-Open Spaces" and, of course, "Rediscover Staycations."
All campaign assets direct to RediscoverAZ.com, which offers visitors options to rediscover Arizona in a variety of ways and provides a "Know Before You Go" section to help visitors stay safe and informed.
The campaign reaches people through several owned and earned media channels, including social, digital advertising, radio and billboards. Phase 1 of the campaign is geo-fenced to reach Arizonans only. As data shows people are traveling further, Rediscover Arizona will expand to reach potential visitors in drive markets, eventually reaching short-haul air travelers, and then potential visitors across the U.S.
"There's a unique opportunity right now to vacation around our state which we, as residents, often take for granted but that millions of people flock here to see each year," said Debbie Johnson, Director of the Arizona Office of Tourism. "Arizonans are looking forward to traveling, so we're showing them why our state has something for everyone."
Arizona's hospitality industry, which directly employed 192,000 Arizonans and contributed more than $24 billion in visitor spending in 2018, is a critical driver of the state's economy.
###
Media Contact: Josh Coddington, (480) 438-4700, [email protected]
About the Arizona Office of Tourism
The Arizona Office of Tourism works to strengthen and grow Arizona's economy through travel and tourism promotion, positioning Arizona as the leading tourism destination for domestic and international travelers. Tourism is a key industry that provides positive economic impacts to all fifteen counties across the state.