AZ Office of Tourism Launches Hospitality Industry Hiring Effort
PHOENIX, AZ. (June 14, 2021) — The Arizona Office of Tourism is partnering with career development organizations Pipeline AZ and ARIZONA@WORK to launch a new initiative connecting job-seekers with thousands of career opportunities available right now across Arizona's tourism and hospitality industry.
This workforce development effort comes at a critical time, as people across the country are planning and taking vacations during the summer travel season. Recent data shows 90 percent of travelers have travel plans in the next six months which is the highest percentage since the start of the pandemic, according to Longwoods International.
"It's clear that strong demand has returned for Arizona vacations. Currently, many of our hotels and resorts aren't able to fill to capacity because of staffing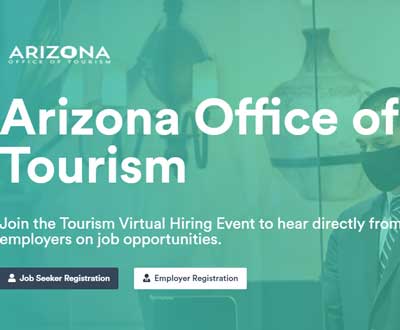 challenges," said Debbie Johnson, director of the Arizona Office of Tourism. "Our new tourism and hospitality workforce development efforts are designed to fill that gap."
The partnership will kick off with an Arizona Tourism Virtual Hiring Event on Wednesday, June 23. Job seekers can get information on hiring, benefits packages and potential hiring bonuses from participating employers including Hilton, Marriott, Hyatt, Xanterra and the Salt River Indian Community's Talking Stick Entertainment District.
"The great news is that people are coming to enjoy all the great attractions in the Talking Stick Entertainment District," said Blessing McAnlis-Vasquez from the Salt River Indian Community. "Fortunately, increased visitors also creates more jobs, so participating in this event is a perfect way to help promote our positions available now."
Employers can register to be matched with eligible candidates and job seekers can register to participate in the June 23 event at AZTourismJobs.com. The site also provides a wide variety of resources all in one place such as connecting people to open jobs, skills assessments, help with resumes and interviews.
"We're pleased to be part of this effort to help Arizona's tourism and hospitality industry recover from the pandemic by connecting qualified job-seekers with custom-matched career opportunities through the Pipeline AZ platform," said Mary Foote, Director of Pipeline AZ, an initiative of the Partnership for Economic Innovation. "Creating a Job Seeker profile and registering for the upcoming virtual hiring event is a great way to learn more about possible tourism and hospitality career paths."
Thousands of jobs are available right now, from management and sales positions to concierge, valet, front-desk managers, housekeeping, maintenance and food prep positions. Pipeline AZ connects the entire workforce ecosystem, serving the needs of hospitality and tourism businesses, job seekers, educators and workforce organizations simultaneously through its platform.
"As one of the hardest-hit during the pandemic, Arizona's tourism and hospitality industry continues to work toward recovery, with rehiring workers being a top priority," Johnson added.
###
Media Contact: Josh Coddington, (480) 438-4700, [email protected]
About the Arizona Office of Tourism: The Arizona Office of Tourism works to strengthen and grow Arizona's economy through travel and tourism promotion, positioning Arizona as the leading tourism destination for domestic and international travelers. Tourism is a key industry that employed 194,000 Arizonans and contributed $1 billion to the state's budget in 2019, providing positive economic impacts to all 15 counties across the state.
About Pipeline AZ: Pipeline AZ is a career development and exploration platform that creates pathways to in-demand careers by connecting the dots between industry and education. It uses skills mapping technology to help job seekers discover new paths or level up in their existing careers while also serving as a valuable recruiting tool for employers. Pipeline AZ is an initiative of the Partnership for Economic Innovation.
About ARIZONA@WORK: ARIZONA@WORK is a statewide workforce development network that helps employers of all sizes and types recruit, develop and retain the best employees for their needs. It also provides services and resources to help job seekers statewide pursue employment opportunities.