AOT Launches Free Spooktacular Arizona Haunted Attractions Passport Ahead of Halloween
FOR IMMEDIATE RELEASE
PHOENIX (Oct. 16, 2023) — With Halloween just around the corner, Arizonans are seeking the best frighteningly fun experiences the state has to offer. As an early treat for residents and visitors alike, the Arizona Office of Tourism (AOT) released the Spooktacular Arizona Haunted Attractions Passport today, which connects families and thrill-seekers with more than 40 haunted places and attractions, seasonal events and historical destinations.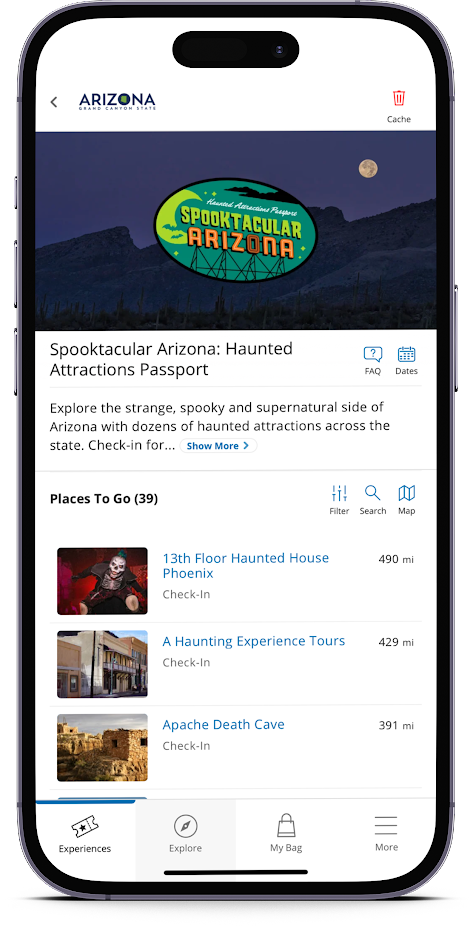 AOT's latest free digital passport puts seasonal road trip planning directly in the hands of travelers. A quick sign-up at SpooktacularAZ.com is all it takes to have the passport delivered instantly to a phone. From there, Arizona's haunted attractions are all plotted on a map, with quick info available about each one. While the passport is free, visitors are still responsible for tickets or entry fees at attractions that require them.
"This pass makes it so easy to find a scary-fun place to visit outside of your own neighborhood or town," said Lisa Urias, Cabinet Executive Officer/Executive Deputy Director (CEO/EDD) of the Arizona Office of Tourism. "It's the perfect way to really get into the Halloween spirit!"
Spooktacular passport holders can also win prizes by checking into attractions they visit and sharing their experiences on social media with the #SpooktacularAZ hashtag. There's no limit, so more check-ins mean more chances to win a prize!
Additionally, the Spooktacular passport lasts long after the Halloween candy is eaten and costumes are stowed away – in fact, spooky season in Arizona is all year round! While haunted houses will disappear from the passport after Halloween, dozens of haunted, strange, spooky and supernatural places all around Arizona remain, waiting to be explored any time of year!
"From the infamous Yuma Territorial Prison to the haunted halls of the Jerome Grand Hotel, every region of Arizona is alive with history and ghostly tales," said Nick Jones, cofounder of Freaky Foot Tours in Flagstaff. "The Spooktacular Passport encourages ghouls and gals from all walks of life to explore and discover just how wild the West really was — maybe the past will speak to you!"
The Spooktacular Arizona Haunted Attractions Passport is powered by Bandwango, a travel technology platform empowering event and destination promoters to offer dynamically curated, digitally delivered access to places and experiences. Discover all of AOT's Bandwango-driven passports by heading to the Arizona Experiences Passports page, including those featuring Historic Route 66 and Arizona Parks and Monuments.
###
AOT Media Contact: Josh Coddington, (480) 438-4700, [email protected]
About the Arizona Office of Tourism: The Arizona Office of Tourism works to strengthen and grow Arizona's economy through travel and tourism promotion, positioning Arizona as the leading tourism destination for domestic and international travelers. In 2022, tourism employed more than 179,000 Arizonans and contributed over $3.9 billion in tax revenue to federal, state and local economies.