Owners & Operators,
The Strawberry Inn
Get to Know Amber & Carson!
Amber and Carson Eilers share a love for each other, their daughters, their work as serial entrepreneurs and helping people create amazing memories. That love also extends to the beautiful community of Strawberry in northcentral Arizona rim country, where they've owned and operated The Strawberry Inn, a boutique hotel property, since 2016.
With longstanding roots in the area and their careers as real estate developers, it was love-at-first-site when they discovered the property, previously known as the Windmill Corner Inn, was available for sale. They jumped at the chance to buy and completely remodel the property and haven't looked back since reopening to the public in late 2016.
In this month's Grand Connection profile, the Eilers' share what prompted them to start a hotel in Arizona rim country, what surprises guests about The Strawberry Inn experience and the secret to finding sometimes-elusive success as both a couple and business partners.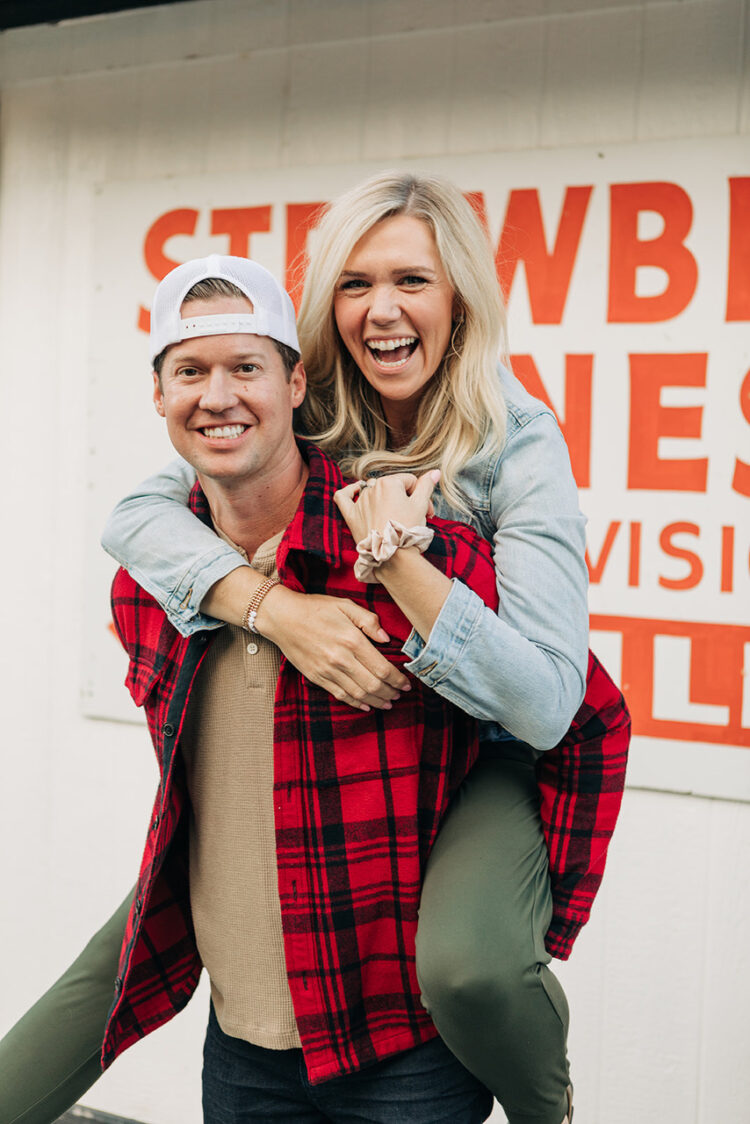 Name

Amber & Carson Eilers,
Owners &
Operators
First Jobs

Amber: Working at a flower shop during high school
Carson: Working in family machine shop in defense contracting
Other Jobs

Real Estate
Developers,
Entrepreneurs
You've put a lot of work and upgrades into The Strawberry Inn since 2016. What attracted you to not only purchase but also operate a boutique luxury property in Arizona Rim Country?
I (Amber) have long-time roots in the Pine-Strawberry area, so the town was already on our radar. When the then run-down vacant hotel popped up for sale, it felt like fate and we jumped at the opportunity. It gave us the chance to spend more time with family and bring up our two young daughters (then just 3 and 1) in a family business. As we renovated it and opened up, our love for the community just continued to grow. Not to mention, we have the best guests. It's amazing being a part of helping people create amazing memories. Being able to provide an incredible destination is wonderful.
What makes The Strawberry Inn such a popular destination with visitors?
We're only 1.5-2 hours away from the Valley, which makes it a very easy spot for a quick getaway. Guests love that they can count on getting a stylish, ultra-comfortable, and ultra-clean accommodation. Even though it's a small community, there are a lot of activity options, which visitors love. I always hear from guests that they found us through social media, and it's given us a simple way to connect with our visitors, even when we're not on-property.
You guys have been working together and a couple for over a decade. Can you share a few secrets of your success?
It's not always easy! One thing that has helped is learning what each of our strengths are, and leaning into those things. For example, Carson is amazing at finding deals, so he usually takes the lead in that arena, especially when we're hunting for our next project.
What is something that might surprise people about the experience at The Strawberry Inn?
That's a really great question! The local wildlife is the most exciting surprise I hear from guests - how they woke up in their tiny cottage to watch a group of elk in the creek below, or spotted the herd stroll through the main part of town at sunset. I think some people are surprised by how much there is to do in our small little mountain town!
People can absolutely have a quiet weekend soaking up nature if that's their vibe, but there are so many fabulous restaurants to explore, boutique shops to visit, and great water hikes.
What collaborative efforts could Arizona's tourism industry pursue during the next 5 years?
We'd love to see small-town getaways featured! We love taking quick weekend trips to small towns around the state to check out other boutique hotels and attractions. It's really neat seeing how much geographic diversity is in Arizona; other people need to know about it too!
Which Arizona tourism experience would you like to do this year?
As an Arizona Wildcat, we always love a family trip down to Tucson for game day to cheer on the Cats, so I'd love to explore more of southern Arizona!
Organ Pipe Cactus National Monument and Saguaro National Park are on our list for sure. The kids really want to go see Kartchner Caverns. I'll let Carson take them for that - caves aren't my thing, haha!