Vacation Ambassadors to Highlight Unique Arizona Trips for
2022 National Travel & Tourism Week, May 1-7
PHOENIX (April 28, 2022) — To celebrate 2022 National Travel and Tourism Week (NTTW), the Arizona Office of Tourism is inviting travelers to explore Arizona through the images, itineraries and experiences of five vacation ambassadors who are visiting different regions of the state.
Follow along on Instagram @visit_arizona during NTTW May 1-7 for collaborative posts from our travel influencers featuring the activities people come to Arizona for including rest & relaxation, outdoor adventures, amazing cuisine, luxury experiences and family fun. New adventures will be shared each day from different parts of the state. Join in on the fun by sharing your own Arizona adventures using the hashtag #LetsSeeAZ.
"Road trips, our amazing parks and special only-in-Arizona experiences continue to be a strong driver for so many visitors to our state," said Debbie Johnson, director of the Arizona Office of Tourism. "So we invited travel ambassadors to share our attractions and businesses, long-time favorites and places locals can't get enough of through their own perspectives."
Southern Foodie Trail Itinerary
For example, we're partnering with the creators at the @welcometoarizona Instagram channel to showcase the foodie scene and culinary offerings in Southern Arizona to their 300,000+ followers and ours as well. Their itinerary winds its way through some of the best dining, wine, dessert and destinations to be found in Pima and Santa Cruz counties. We'll meet these creators through collaborative posts on @visit_arizona on Wednesday, May 4.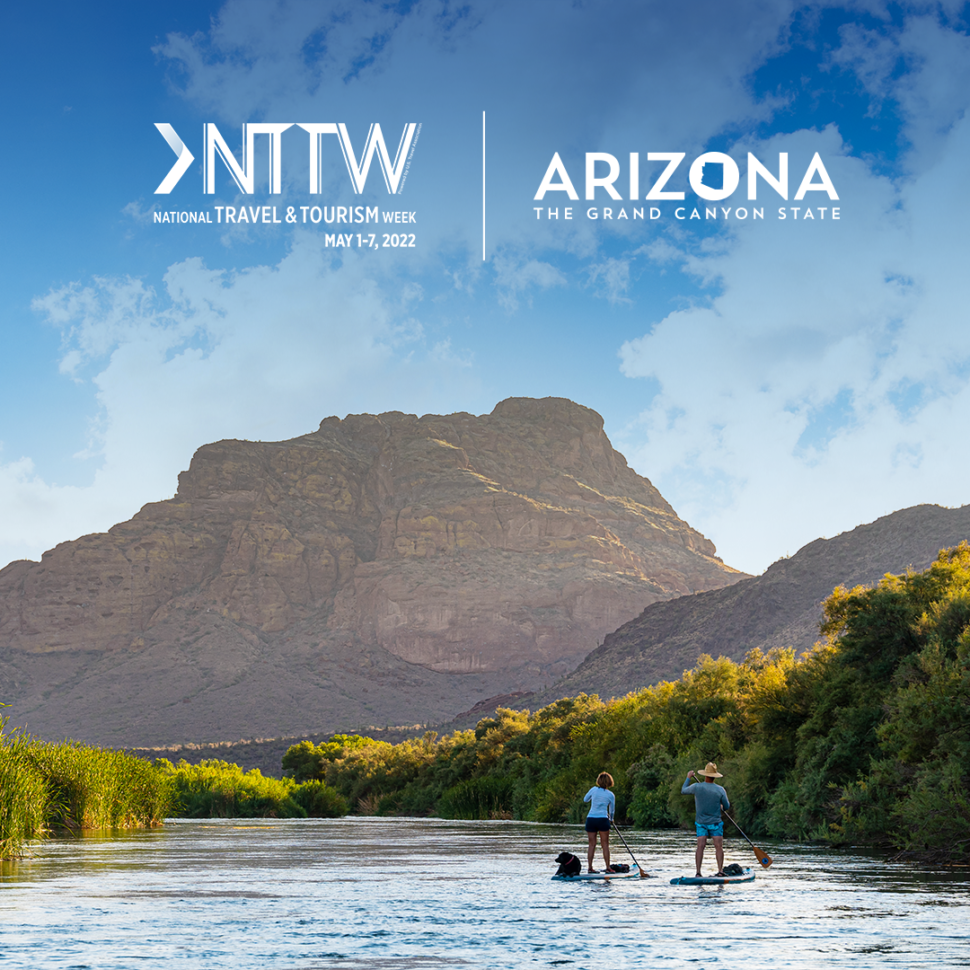 NTTW Partner Instagram Schedule: All content will be available at @visit_arizona.
LetsSeeAZ.com
To meet all of our travelers, get a preview of the stops on their Arizona adventures, or plan to follow in their footsteps, visit LetsSeeAZ.com.
2022 National Travel and Tourism Week
National Travel and Tourism Week is an annual celebration of the value travel holds for the economy, businesses, communities and personal well-being. It runs Sunday, May 1 - Saturday, May 7, 2022.
###
Media Contact: Josh Coddington, (480) 438-4700, [email protected]
About the Arizona Office of Tourism: The Arizona Office of Tourism works to strengthen and grow Arizona's economy through travel and tourism promotion, positioning Arizona as the leading tourism destination for domestic and international travelers. Tourism is a key industry that employed 194,000 Arizonans and contributed $1 billion to the state's budget in 2019, providing positive economic impacts to all 15 counties across the state.