Responsible Recreation Across Arizona
PUBLIC LANDS ARE OPEN!
In Arizona, exploring the outdoors is an ingrained part of our culture. Thousands of residents and visitors responsibly enjoy our amazing parks, trails, forests, refuges, wildlife areas, historic sites, wilderness areas, rivers, lakes and reservoirs every year.
Phased-in reopenings continue across Arizona's public lands and recreation areas. The agencies that manage Arizona's outdoor recreation areas encourage Arizonans to continue enjoying all the spectacular landscapes our state offers, while adhering to the COVID-19 physical distancing guidelines provided by the Arizona Department of Health Services and the Centers for Disease Control and Prevention.
Whether it's your first time or you regularly enjoy Arizona's amazing outdoor spaces, be sure to check the status of the area you plan to visit before heading out. The individual sections below provide important reopening details for Arizona recreation areas and information on current conditions.
Remember, responsible recreation requires participation by everyone. Always be respectful of the wildlife and vegetation on public lands and be sure to check the rules for recreation ahead of time for the specific area you're planning to visit.
Visitors should continue following COVID-19 guidelines. If you are feeling even mildly sick, you should remain at home until you feel better. If you are showing symptoms of COVID-19, such as shortness of breath, a fever or a cough, call your doctor. And most of all, remember that following COVID-19 guidelines allows continued access to Arizona's outdoor areas for all!
NEW TO HIKING?
More than 200 hikers are rescued annually from Phoenix desert and mountain parks. With so many Arizonans taking to outdoor activities for the first time, this simple checklist can help keep new hikers from getting into a bad situation and requiring emergency assistance. 
Bring more water than you think you need. Turn around before half of your water is gone.

Watch the weather. Arizona's high temperatures can be deadly. Hike when it's cooler outside.

Dress appropriately. Sturdy shoes, shielding clothing, hats and sunscreen.

Pack it in, Pack it out. Don't leave waste behind.

Know your abilities. Don't push yourself too hard.

Stay on designated trails.

Don't feed wildlife.

Take responsibility. Be informed. Plan ahead.  
FIRE SEASON 
Protecting public health and safety is the top job of wildfire response agencies including the National Park Service, Fish and Wildlife Service, Bureau of Indian Affairs, Arizona State Forestry, USDA Forest Service and Bureau of Land Management. The mission is to provide timely information on current wildfires, fire restrictions and fire prevention for all Arizonans and visitors to the state.
Fire Prevention:
Avoid high-risk activities. Help keep fire, law enforcement and search & rescue operations available for those who need them most.
Do your part. Don't let a wildfire start. The public plays a valuable role in preventing wildfires. On average, human-caused wildfires make up more than half of all wildfire occurrences in Arizona annually. Always keep outdoor fire safety in mind. Many of our wildfires start from vehicle and equipment use as well as campfires, or debris burning on private property.
Know before you go. Be fire safe and check for fire restrictions. As the weather becomes warmer and dryer, the potential for wildfires increases. See below for fire prevention and restriction information.
SUMMER/WARM WEATHER RECREATION
During the warm months, City of Phoenix park rangers advise hiking during the early morning or evening hours when it is cooler and there is more shade and always bring more water than you think you'll need. Everyone considering outdoor recreation should monitor local forecasts and understand that all trail difficulty ratings are raised one level when the temperature is 100 degrees or warmer. Always follow "Take a Hike. Do it Right." safety guidelines.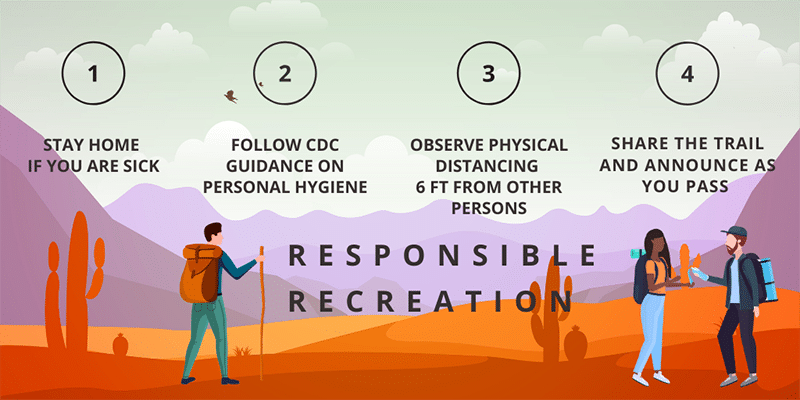 RESPONSIBLE RECREATION TOP 10
With so many Arizonans turning to the outdoors as a great escape, it's critical to approach these activities with a protective mindset. Here are the Top 10 common-sense guidelines that visitors should apply during all outdoor recreation activities. These are designed to help keep you, your family and other visitors as safe as possible.
Practice physical distancing outdoors by staying at least 6 feet apart.
Avoid crowded locations where physical distancing may be difficult.
Do not gather in large groups.
Limit group activities to members of your household.
Plan ahead, as services and facilities will be limited.
Pack out trash.
Bring your own toilet paper and hand sanitizer.
Be respectful of public lands.
Stay home if you're sick.
Do your part!
READY TO VISIT?
Fortunately, many public lands are open for dispersed recreation activities like hiking, biking and stargazing. Outdoor recreation is a great way to stay active and follow public health guidelines to prevent the spread of COVID-19. Follow these simple tips from the USDA Forest Service to plan a fun and safe outing to Arizona's public lands.
Before You Visit:
Call ahead. Agencies have websites and social media that offer information on local conditions, but visitors are encouraged to call ahead with any additional questions.
Select an appropriate activity. Hiking, biking, stargazing and dispersed camping are fantastic options. Avoid high-risk activities like rock climbing or backcountry activities, as law enforcement and rescue operations may be limited due to COVID 19 issues.
Select low-traffic locations and times. Discover a new area. Visit less-traveled locations during non-peak hours to avoid crowding.
Stay home if you feel sick. Follow CDC guidance on personal hygiene and social distancing before and during your visit.
Bring necessary supplies. Services like trash pickup and restroom maintenance are likely limited or not available at many locations. Bring the supplies you might need such as trash bags and hand sanitizer.
During Your Visit:
Evaluate your surroundings. When you arrive at the recreation area, evaluate your surroundings. A full parking lot or crowded trailhead might indicate that there are too many people recreating. For your safety and the safety of other visitors, please consider changing locations or returning at a less active time.
Keep your distance from others. Everyone wants to safely enjoy public lands. Please make sure to stay at least six feet away from other visitors as recommended by the CDC.
After Your Visit:
Pack it in, pack it out. Take trash with you when you leave. Trash overflowing the receptacles becomes litter and can be harmful to wildlife and attract predators.
AGENCY GUIDELINES
The above information is a general overview of the best practices for a successful visit to an outdoor recreation area in Arizona. But in addition to the above information, it's always best to check the guidelines of the specific area you're planning on visiting. See below for specific information.
City Parks:
Prior to making a visit, visitors should check with their specific parks departments or other lands agencies for the most recent information and guidelines.
USDA Forest Service:
Phased re-openings continue based on risk assessments and available resources. The vast majority of the National Forests acres remain open for dispersed camping and use. Changes occur weekly across the region, generally taking effect each Friday. A campfire ban remains in effect and a recreational shooting closure remains in effect on the Prescott, Tonto and Coronado National Forests in Arizona. Public lands can help individuals and communities stay healthy and resilient, which is why many areas are open for dispersed recreation activities such as hiking, biking, stargazing and dispersed camping. In addition to the Before, During and After tips above, please check the Interactive Visitor Map to find a recreation area near you.
National Park Service:
The health and safety of visitors, employees, volunteers, and partners are the number one priority of the National Park Service. Where it is possible to adhere to federal, state and local public health guidance, outdoor spaces will remain accessible to the public. As parks make more areas available to the public, the NPS encourages you to follow CDC guidance to reduce the spread of COVID-19 and follow Leave No Trace principles when you visit. Please check the AZ NPS Sites Status below to see what is accessible.
U.S. Fish & Wildlife Service:
Outdoor recreation sites at National Wildlife Refuges and National Fish Hatcheries are generally open to the public. Visitor Centers and other facilities, however, may be closed and scheduled events may be canceled. For local conditions at a specific Refuge or Hatchery, please visit their website and call ahead.
Arizona Office of Tourism:
The Arizona Office of Tourism, in partnership with the Leave No Trace Center for Outdoor Ethics, promotes sustainable tourism practices across Arizona's spectacular landscapes and unique destinations, which are enjoyed by millions of residents and visitors every year. The partnership is building a program that ensures both visitors and residents are equipped with Leave No Trace environmental and sustainability information and skills while they enjoy Arizona's iconic natural features.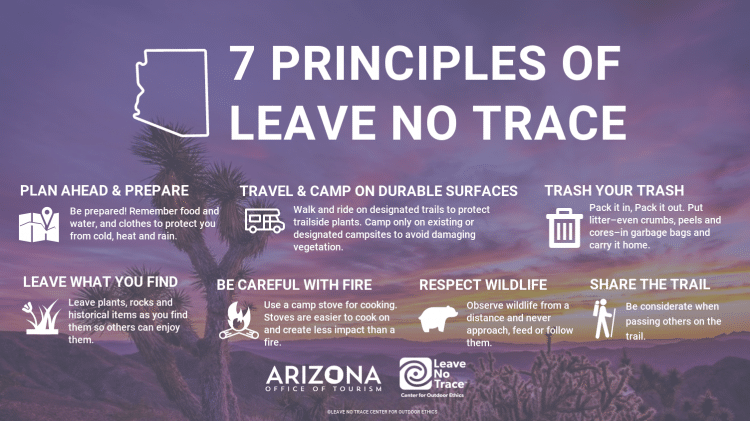 Bureau of Land Management - Arizona:
BLM-managed lands in Arizona are open, including campgrounds, day-use areas, and trails. Existing rules and regulations apply. Fees for overnight camping, cabin rentals, group day use, and use of special areas remain in effect. BLM lands remain available for dispersed camping and other outdoor recreation activities unless otherwise prohibited.
Arizona Game and Fish Department:
AZGFD is committed to staying connected with its customers and continuing to provide exceptional service. Currently, front counter service is available by appointment only. Arizona's outdoors are open to hunting and fishing and as always, hunters and anglers must be in possession of a valid Arizona hunting, fishing or combo license. Visitors must make a reservation for the Ben Avery Shooting Facility (BASF). A reservation is not needed for the archery range.
Arizona State Parks & Trails:
Arizona State Parks and Trails, including open spaces, hiking trails, campgrounds, and outdoor destinations, are open. While necessary precautions are being taken for the safety of volunteers and staff, visitors are asked to follow guidelines by not gathering in groups, maintaining a physical distance of six feet, using a different park or trail if it's crowded, using hand sanitizer and packing out all trash.
Arizona State Land Department:
The Land Department remains open from 8 a.m. to 5 p.m. to serve the Arizona public, Trust customers and stakeholder businesses. The agency is committed to protecting the health of both the public and employees while continuing to provide services to customers. To comply with physical distancing recommendations, ASLD has temporarily closed the public records area and customer service window at 1616 W. Adams Street in Phoenix to in-person transactions. The public is asked to use ASLD online services and phone services by calling 602-542-4631.
Navajo Nation:
The Navajo Nation remains under a "Safer at Home" order, which encourages people to exercise personal responsibility but does not require them to stay at home at all times. Since Sept. 1 and running each weekend through September, the Nation is observing 32-Hour Weekend Lockdowns. Starting each Saturday at 9 p.m. and ending each Monday at 5 a.m. All individuals are required to stay at home during each lockdown, except in emergency situations. Also, all essential businesses are required to close for each lockdown period but may remain open otherwise. This order runs through Sept. 28.